Partner – tawk.to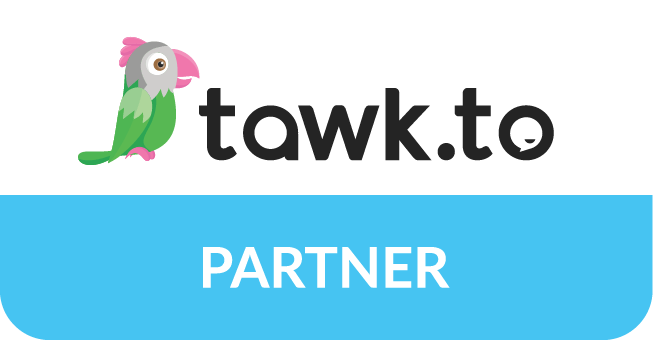 One of the core aspects of a virtual stand is the ability to interact with your visitors.
For this purpose, we have actively engaged in a partnership with tawk.to – a leading light in web chat provision. As shown in the image, visitors will be able to interact with you via the well-established web chat speech bubble icon displayed bottom right of your stand area.
As an exhibitor, you can log in to your tawk.to dashboard or use the tawk.to app on your mobile. And if you are not available to chat, set your dashboard profile to "Away", or simply log out, and you will be emailed enquiries instead.
Once connected, you will be able to monitor when visitors arrive on your stand, engage them in secure, private chat, and access chat transcripts at a later stage to save you needing to record details of the conversation separately.
Enable Live Chat on your website – for FREE
Interested in having the same live chat facility on your own site?
Monitor and chat with the visitors on your website, respond to support tickets and create a help centre to empower customers to help themselves – all 100% Free
That's not all – in a world where online interaction is becoming the mainstay, you can hire chat agents to be the first point of interaction with your site visitors and clients from just $1 an hour – see more here
Furthermore, there are options to extend your tawk.to interaction into live video chat and screen sharing. This allows you provide a greater level of assistance or to guide your visitors through particular pages on your site and help answer their questions.
As a tawk.to partner, we're able to help you integrate live chat on your site should you need.
For more information, visit the tawk.to website here